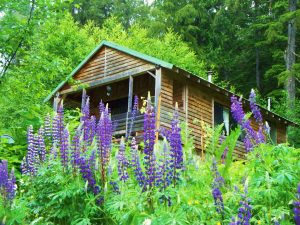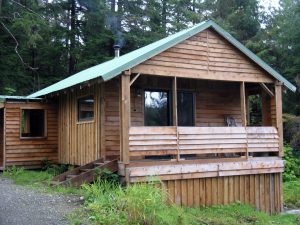 Rates for 2018, our cabin rental rates are as follows:
$105.00 per night
$15.00 per night for each extra person
If you are staying 7 or more nights….
$95.00 per night
$15.00 per night for each extra person

To hold your reservation, we require 25% of the total fee for your stay, when you make the reservation. We are not set up for credit cards at this time but will accept a check for the deposit and a check or cash for the remainder when you get here. (we will hold your dates for a couple of weeks until your deposit gets here and I will let you know it has arrived.)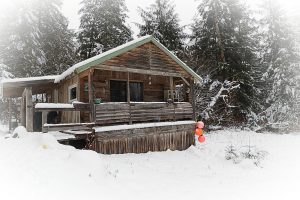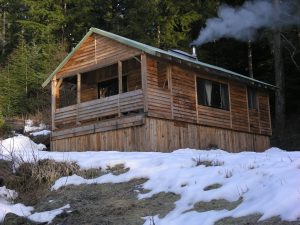 ABOUT THE CABIN
This is a "do it yourself" cabin.
…..However, we will collect your food waste and garbage daily and make sure you have clean towels/washrags always, as well as a supply of sheets/blankets. The bedding will be changed once a week when you are out of the cabin if you are staying 7+ nights…if you wish it to be changed more frequently, there are supplies of extra bedding linens stocked in the cabin for your use.
WATER:
We get our water from a nice well. It goes through two filters and then is treated with UV light. It is safe to drink and tastes delicious.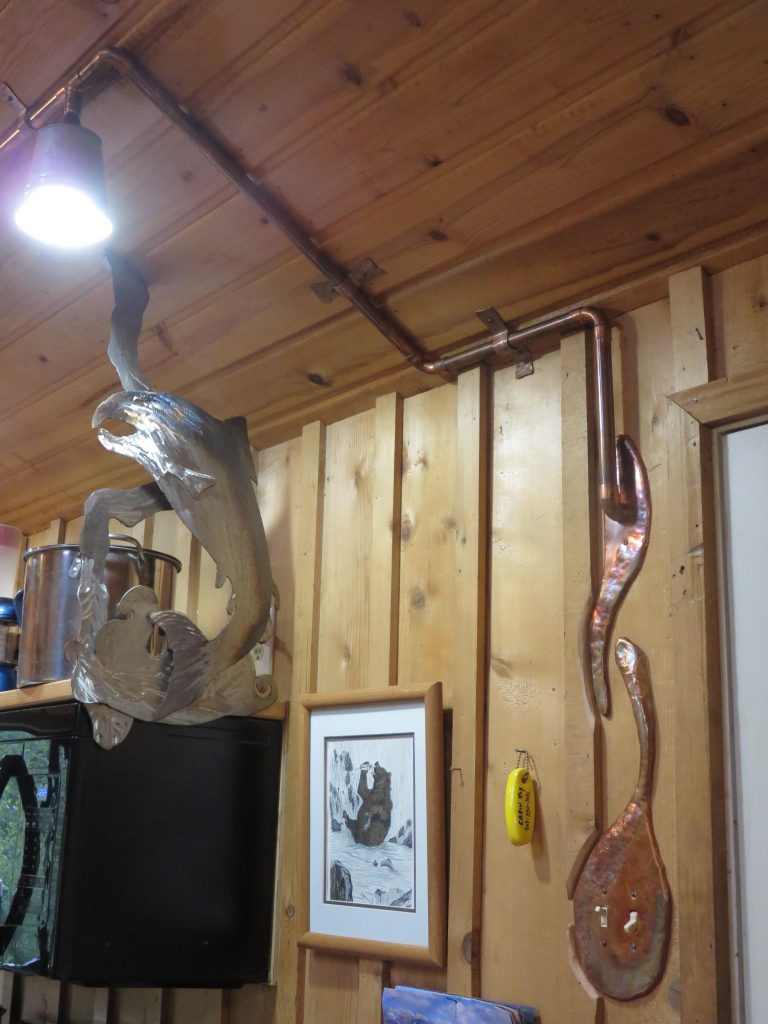 UTILITIES AND APPLIANCES:
There is electricity, propane and water in the cabin
Stove and oven are propane
Refrigerator
Microwave
Water heater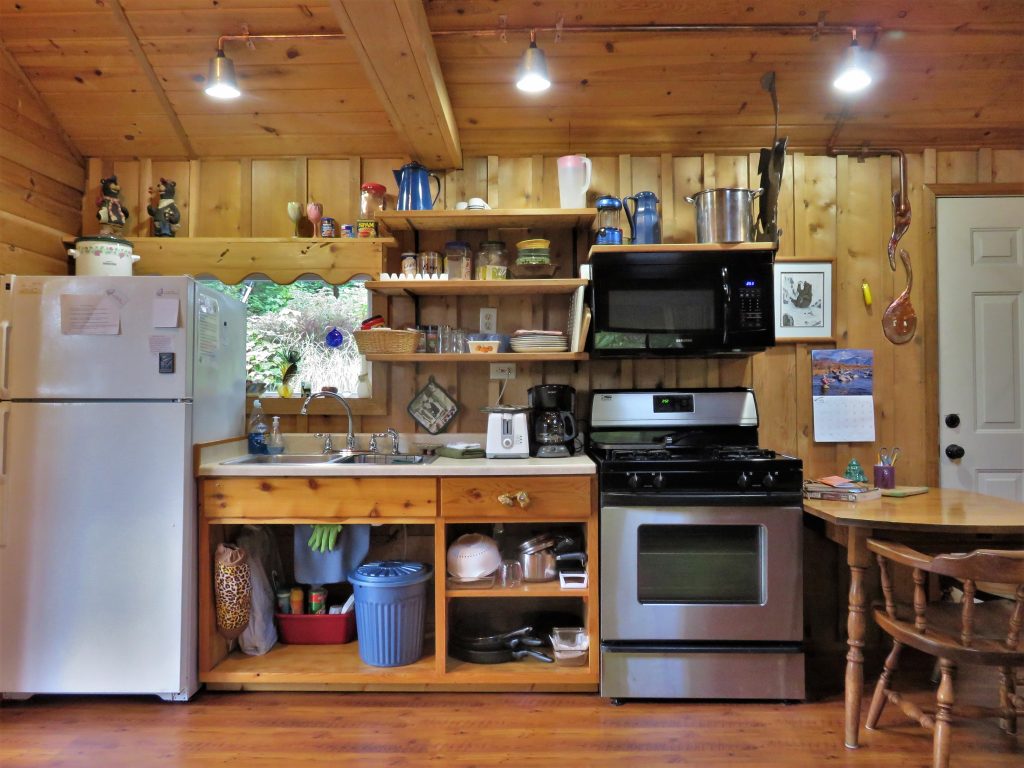 HEAT:
Cabin is heated by woodstove
We supply the kindling and firewood which is kept on your deck
If you have never used a woodstove, please say so when you get here and we will give you a lesson on it's safe use. All wood stoves are different and operate differently so please ask.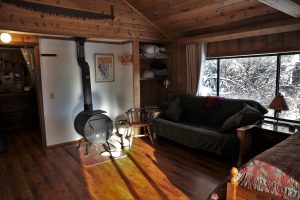 KITCHEN:
Table with a leaf addition and four chairs
Refrigerator
Stove/oven…regular size
Microwave
Dishes,glasses, cups, utensils
Pots (small to large), skillets, loaf pans, mixing bowls, storage bowls/containers
Slow cooker, electric mixer, small food processor, dutch oven
Toaster
Drip coffeemaker (12 cup)
Dish soap and cleaners are provided
Dish Rags and towels, scrubbers and sponges
Under sink..trash can, food scrap can (we will collect both each day)
Broom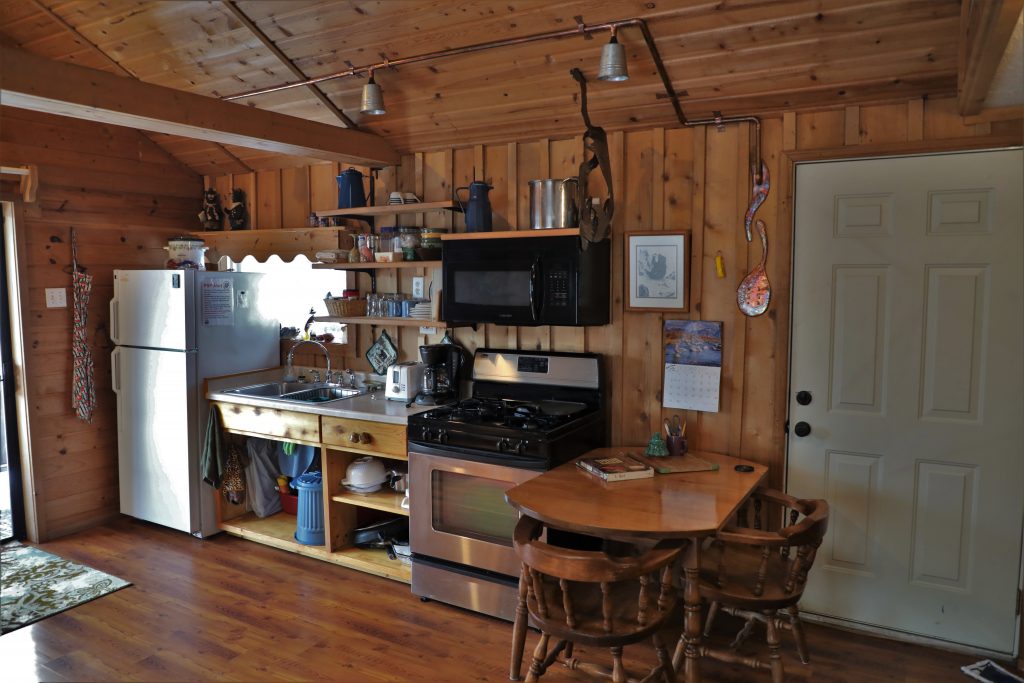 MAIN ROOM (includes kitchen, sitting area and sleeping area)
Woodstove
Futon/couch
Queen bed
End table/lamp
Floor lamp
Some small lamps
Alarm Clock
Throw rugs
A small alcove that contains bins with extra bedding/pillows, towels, wash rags, kitchen towels
A small folding table and a large fan
ALCOVE BEDROOM:
This room is very small and contains:
A bunk bed with a double mattress on bottom and a twin mattress on top and a ladder
A four drawer dresser
Shelf with games and books, flyers from local businesses, maps
CD player and some CDs
One must come through this room to get to the restroom.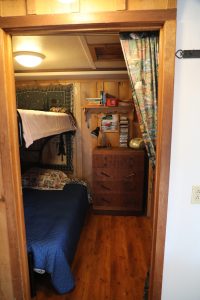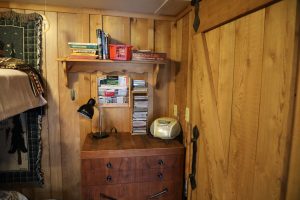 BATHROOM:
Full bathroom with tub/shower
Sink/counter top
Hair drier
Toilet
Bin with extra towels/washrags
bath mat
Rugs
Water Heater
Small trash can
Bag of rags (for any nasty clean ups) and old towels for pets/clean ups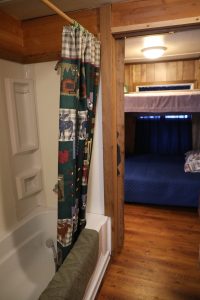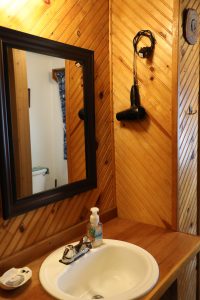 ON DECK:
Freezer
Gas Grill with propane provided
Sturdy plastic Adirondack chairs
A Recycle Can for plastic and glass (packaging, bottles, food containers, beverage containers)
Broom and dust pan
A cabinet contains cleaners, A Food Saver Vacuum Packer (you bring your own bags or buy them in town here) Foodsaver is there for your use but not guaranteed with the cabin…It won't be replaced if it stops working. It is working well now.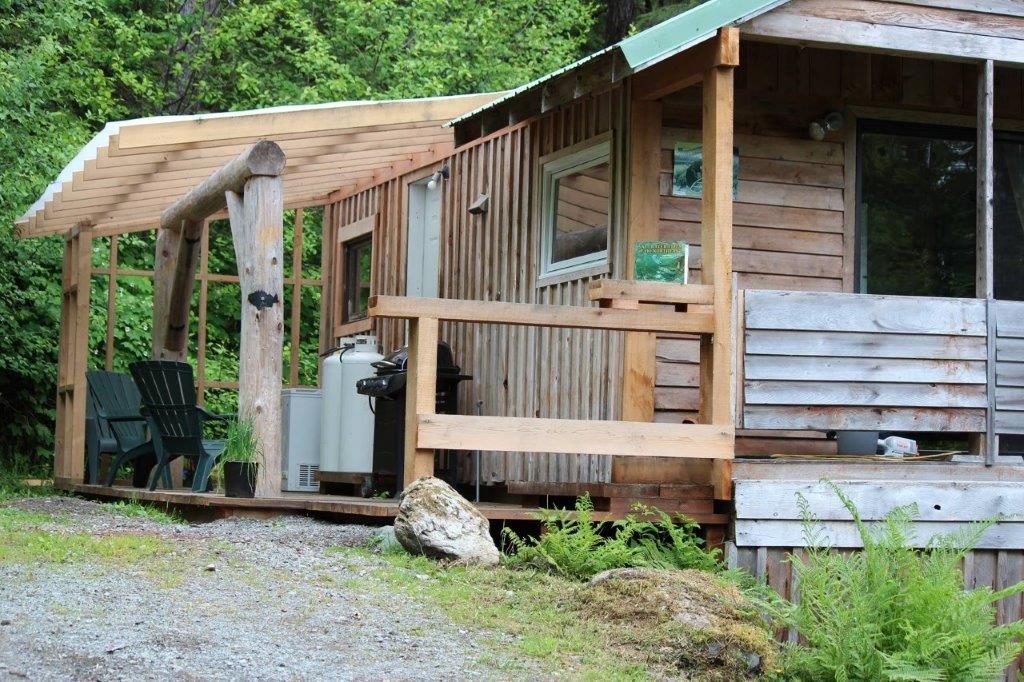 Bring your own:
Fish/game knives
Multi tool
Grooming needs
Meds
Bug and bear spray (can be bought here, in town)
Clothing
Fishing/Hunting gear
Camera
Binoculars
Flashlights
Clothing
Rain Gear
Rubber Boots or hiking boots
Food
Note: There are plenty of plug ins by each bed to accommodate Cpap machines.
NOTE: It is illegal to use felt bottoms on shoes, waders, boots, etc. in Alaska.

All bedding, pillow protectors, mattress protectors, quilts, towels, etc. are washed and sanitized between guests for your comfort and protection.

Keep in mind that our weather is usually in the 60's, even in summer but it can on occasion get up to 80…that's rare though. Layering with fleece is a good way to dress. It rains often here, all year, so bring some rain wear that will not leak.
We are 3 3/4 mi. from the ferry/float plane terminal. We are remote but close to excellent, world class fishing as well as hunting.
Hollis has no amenities…you will need to get your food and fuel on the other side of the island, in town, approx. 30 minutes away. I keep a small amount of sugar, flour, in the cabin for your use and enough coffee for a day or two until you get your groceries. If you need a little something, ask, I mostly likely have plenty to share.

Our Roads in to the Cabin
We have two roads in to our cabin. One runs 3/4 mi. along the beach to our place. It is under water at high tides over 15′ for anywhere from an hour to a couple hours depending on how high the tide is each day. This happens several times during each month, NOT every day. We provide a tide guide for your use and I mark the days and times to be aware of, if any. It is easy to work around them and fun to see the driveway underwater! Or fish swimming and jumping in the driveway!
The other road in is steep, about a 21% grade. You MUST HAVE a four wheel drive to go up. There is a switchback halfway up. It is quite easy to negotiate. I'm a nervous Nellie and I am fine with it. Please do no attempt to go up that road without four wheel drive, thinking you might make it. You won't and it will only tear up the road.
Also, we ask that guests drive no more than 10mph on the beach road.
We recommend a four wheel drive vehicle for traveling Prince of Wales Island